Storage
HOME
> PRODUCTS
> Storage
Storage

Filtering Storage Cabinets
Storing reagents in this filtering storage cabinet ensures clean lab environment for users.
Feel free to install the cabinet anywhere without any concern of your existing exhaust system.
Air purification inside the cabinet prevents heating and cooling loss caused by ducted air exhaust systems.
Model Name : FSC-280 / FSC-140

BS 7989 2001
Filtering capacity of our cabinet is tested by BS 7989, which describes specifications for the recirculatory filtration fume cupboards.
Cost-effective filtering system
Energy efficient and space saving filtering system.
Flexible installation of the cabinet is possible and cost-intensive exhaust air ducts are no longer necessary.
Air circulation inside the cabinet prevents heating and cooling loss due to the exhaust air, which causes high energy consumption.
Customized filter configuration.
ISO class 4

(US class 10)

HEPA filter for optimal protection against cross-contamination.

(optional)

0.3 μm and larger particulates are removed with 99.99% efficiency, leak-tight HEPA filter which satisfying class 10.


(US Federal Standard 209E)

(average life span of HEPA filter: 3 years– it depends on the test room conditions)

(optional)

High-quality polyester fiber pre-filter

(with minimal pressure loss and 85% arrestant on the A.F.I. test)

for trapping larger particles and increasing the life of the main HEPA filter.
Activated Carbon Filters; VOC / MA / MB type.

(optional)

Convenient filter saturation check and easy filter replacement by an intelligent front cover design.
Multi-functional operation
User-friendly functions.
- Auto run on/off; In case of power failure, the unit starts automatically when the unit gets the power back.
- Set each function's value to best suit the users.
Safety warning alarms with LED indicators.
- High temp. alarm with automatic fan stop.
- Fan fail alarm for abnormal fan stop.
- Door open alarm to protect users and clean environment.
Economical and ecofriendly sleep mode.
- You can set the operating time from 8am to 6pm if your official working hour is from 9am to 6pm. It saves 60% of energy consumption and extends the life span of the fan and filter.
VOC level indication.
- Clear and symbolic VOC level bar indicates VOC measurement of the inner cabinet.
- Real time detecting and displaying are available with VOC sensor inside the cabinet.
Powerful air purification.
- Simply push turbo fan button before opening the door to activate fan at the maximum speed level for protecting users from any remain hazardous gas inside.
- This turbo fan function can also be interlocked with door opening.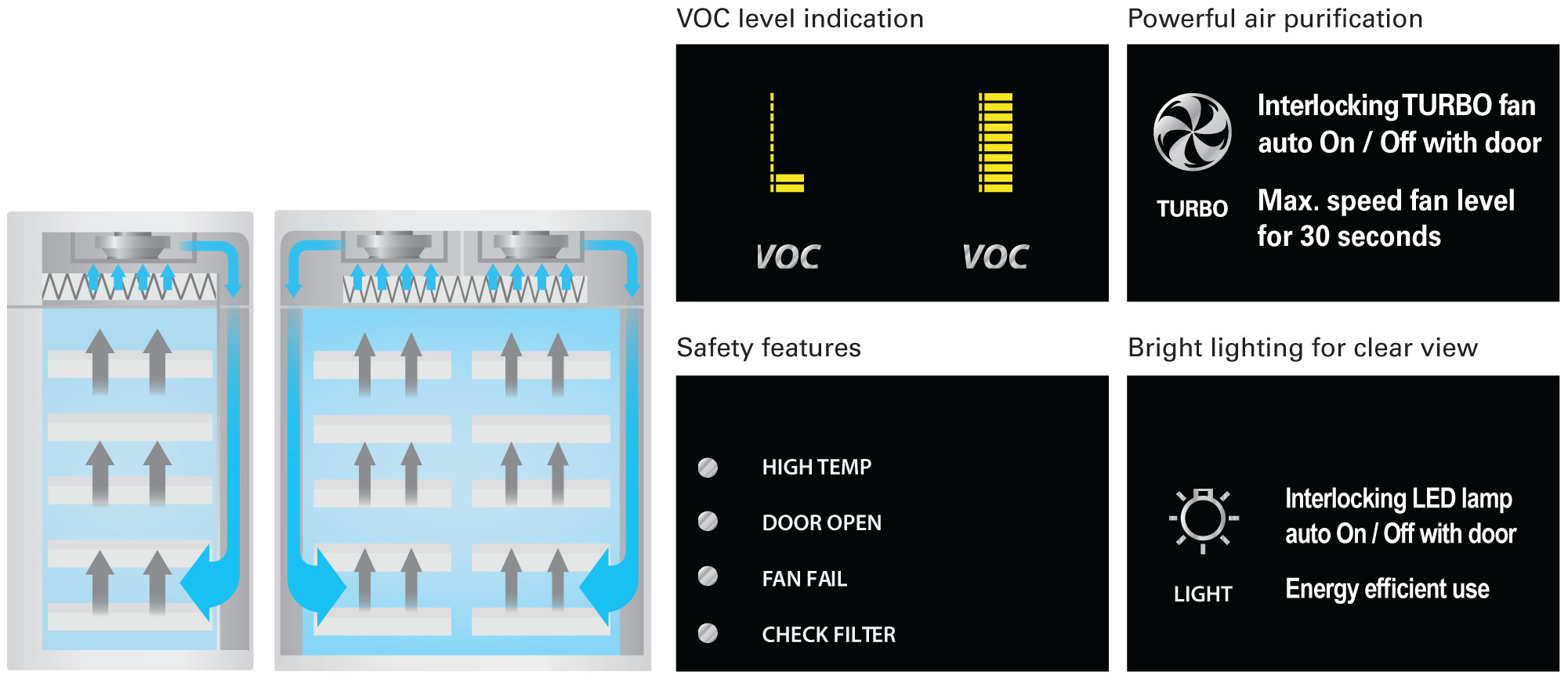 Convenient and safe storage
Door and drawer tested in accordance with SEFA.
- It is designed and tested in accordance with SEFA for door hinge test and drawer static load test. The international standard guarantees users the quality and longer use of every unit. In addition, we autonomously conducted the overturning test for more safety.
- Max. 40kg heavy load sustainable inner chamber and drawers. Imagine that just one drawer can dramatically sustain a ten-year-old boy.
Chemical resistant epoxy coated steel and transparent tempered glass door.
- Corrosion resistant epoxy coated steel for storage of toxic chemical samples.
All parts of the unit are durably constructed of epoxy coated steel for prevention of corrosion.
- Tempered glass door provides clear observation of stored samples.
- Well designed full length handle let you feel totally relaxed by opening the door at any height.
Wide inner space use.
- Wide inner space use with the provided extremely smooth full-extension sliding drawers.
- Spill tray and door lock key for clean and safe sample storage.
Model
FSC-140
FSC-280
Internal volume

(L / cu ft)

604 / 21.3
1317 / 46.5
Capacity

(L or quantity of 1 L bottle)

140
280
Airflow rate

(m3/min)

0.67
1.34
Noise level (dB)
< 50
< 55
Safety
Warning / Alarm
High Temperature, Door Open, Fan Fail, Sensor Error
Check Filter, External Input Error
Protection
Over Temperature Protection, Over Current Protection
Dimension

(W×D×H)

Internal

(mm / inch)

930 x 636 x 1890 / 36.6 x 24.8 x 74.4
1868 x 636 x 1890 / 73.5 x 24.8 x 74.4
External

(mm / inch)

795 x 578 x 1315 / 31.3 x 22.8 x 51.8
1733 x 578 x 1315 / 68.2 x 22.8 x 51.8
Drawer

(mm / inch)

613 x 478 x 109 / 24.1 x 18.8 x 4.3
613 x 478 x 109 / 24.1 x 18.8 x 4.3
Spill tray

(mm / inch)

670 x 526 x 34 (1ea) / 26.4 x 20.7 x 1.3 (1ea)
670 x 526 x 34 (2ea) / 26.4 x 20.7 x 1.3 (2ea)
Weight (kg / lbs)
300 / 661.4
495 / 1091.3
Quantity of drawer (standard / max.)
5 / 10
10 / 20
Max. load capacity per drawer (L or quantity of 1 L bottle)
28
28
Max. load per drawer (kg / lbs)
40 / 88.2
40 / 88.2
Noise level

(dB)

< 50
< 55
Electrical requirements

(230V)

60Hz, 0.5A
50Hz, 0.5A
60Hz, 1.0A
50Hz, 1.0A
Cat. No.
AAHF1122K
AAHF1122K
AAHF1132K
AAHF1132K
Electrical requirements

(120V)

60Hz, 1.0A
60Hz, 2.0A
Cat. No.
AAHF1123U
AAHF1133U
Lab Companion's Filter Series
The Lab Companion's carbon filter is an excellent amorphous adsorbent with a high surface area, has fine pores and is manufactured through a multi-level impregnation process..

Made of 100% impregnated filter, it is more than twice as efficient as general filters.

Has the efficiency of an excellent composite filter as it simultaneously performs physical adsorption and chemical adsorption.

Electron microscopic photographs of JEIO TECH's carbon filter confirms development of numerous pores such as Macropores (diameter of more than 500Å), Mesopores (diameter of 20-500Å), and Micropores (diameter of 20Å or less).

| Filter | Description | Cat. No. |
| --- | --- | --- |
| Complex Carbon | Filters a wide range of chemicals, including acid, ammonia, and aldehyde. | AAAF1537 |
| Acid | Filters acid gases such as HCl, HF, H2S and CH3COOH | AAAF1539 |
| Formaldehyde | Filters formaldehyde, Acete aldehyde, etc. | AAAF1541 |
| Ammonia / Amines | Filters Basic Gases Such As NH3, (CH3)3N etc. | AAAF1542 |
| HEPA | Filters 99.99% of toxic dust and other 0.3μ m particles | 00FSC0000083 |
※ The appropriate filter is selected according to the chemical used.
※ Built-in pre-filter primarily filters particles to extend the life of the other filters.
Gas Detector & Tubes & Drawer Set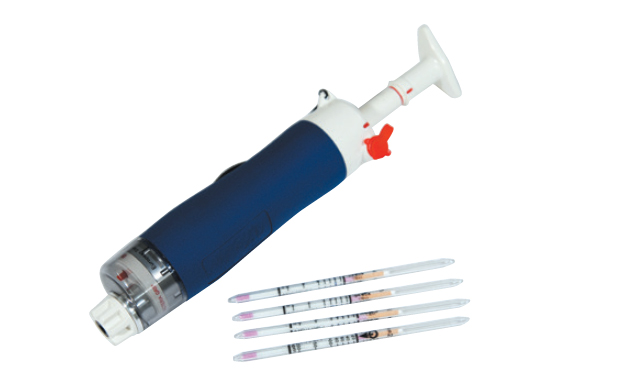 Item
Cat. No.
Gas Detector
KITAGAWA AP-20.
AAAB2531
Gas Detecting Tube
Benzene, GASTEC-121SP (0.5~10 ppm)
AAAB1550
Toluene, GASTEC-122L (1~100 ppm)
AAAB1551
Acetic acid, GASTEC-81L (0.125~25 ppm)
AAAB1552
Chloroform, GASTEC-137 (4~400 ppm)
AAAB1553
Formaldehyde, GASTEC-91LL (0.05~1 ppm)
AAAB1554
Ammonia, GASTEC-3L (0.5~60 ppm)
AAAB1555
Drawer Set
Drawer Sheld (slide) set
AAAF1512
Check the condition of the Complex Carbon filter for the currently used chemical and determine the replacement time of the filter.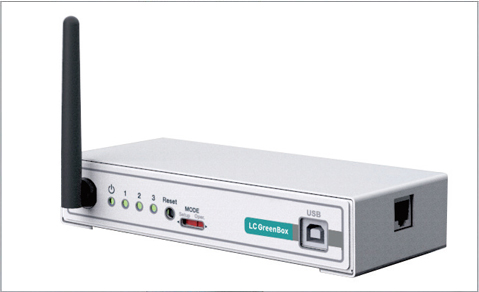 LC GreenBox
Real-time monitoring of device operation via mobile app

Up to 4 devices can be connected
| Model | Description | Dimension (W x D x H, mm) | Cat. No. |
| --- | --- | --- | --- |
| FSC-140/280 | LC GreenBox | 156 x 94 x 34 / 6.1 x 3.7 x 13.3 | AAHQ1011K |