Ovens

Structural Functional Features
Wide temperature range that can be controlled up to 250°C.
Improved temperature distribution.

(±1.5°C at 100°C)

3-point temperature calibration, high temperature accuracy over a wide temperature range.
Inner stainless steel and aluminum shelves provide excellent corrosion resistance and clean maintenance.
Protects equipment from overcurrent and over temperature through safety circuits.
Vacuum line and release line are separated and convenient to use.
The display is mounted at the top, minimizing floor sizerequirement.
Use Convenience Features
When a vacuum is formed and maintained, the toughened glass is attached to the gasket, so it is kept confined for long-time repeated use.
Save and use 3 frequently used temperatures.
PC connection using RS-232 port and USB port.
Excellent visibility and viewing angle due to application of 5-inch large LCD.
Wait On/Off timer. (up to 99 hours 59 minutes)
Toughened glass viewing window for easy internal viewing.
Microprocessor PID method for precise temperature control.
Automatic restart as it was operated after power recovery.
Monitor via mobile app anytime, anywhere with LC Connected. (mobile monitoring system) (when purchased LC GreenBox)
Microprocessor PID method for precise temperature control.
Outstanding Safety
Door structure including buffer system allows for internal pressure release through upper and lower ventilation holes when stable vacuum is formed/maintained and when there is an internal explosion.
Polycarbonate safety cover provided in case of toughened glass breakage.
12 events is recorded in case of door open, error, and etc.
Top-rated overheating protection system. (registration 10 - 0397583)
Over temperature limit function.
Safe product surface, even when operated at upper temperature.
Malfunction prevented by controller lock function.
Alarm if set temperature deviation outside of acceptable range.
Vacuum Oven Use Configuration
It is recommended to use the cold trap bath on the vacuum line to protect the weak vacuum pump against water/solvent or to supply dry air to the sample.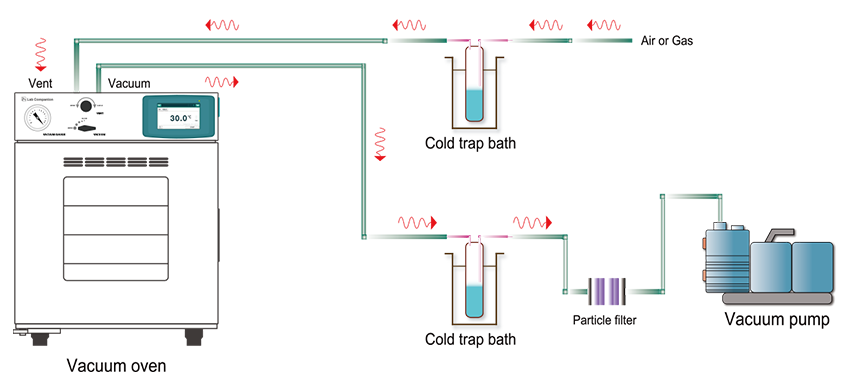 Model
OV4-30
OV4-65
Chamber volume

(L / cu ft)

28 / 1
65 / 2.3
Temperature
Range

(℃ / ℉)

Amb. +15 to 250

/ Amb. +27 to 482

Amb. +15 to 250

/ Amb. +27 to 482

Fluctuation

(±℃ / ℉ at 100℃)

0.2 / 0.36
0.2 / 0.36
Variation

(±℃ / ℉ at 100℃)

1.5 / 2.7

1.5 / 2.7

Heating time to 100℃ (min.)
70
90

Vacuum gauge range, analog (Mpa)

0 to 0.1

0 to 0.1

Dimension

(W×D×H)

Interior

(mm / inch)

302×305×302

/ 11.9×12×11.9

402×405×402

/ 15.8×15.9×15.8

Exterior

(mm / inch)

534×522×655

/ 21.1×20.6×25.8

636×622×755

/ 25.0×24.5×29.7

Net weight (Kg / lbs)

69 / 152.1
110 / 242.5

Shelves

Quantity of shelves (standard/max.)

2 / 3

3 / 4

Max. Load per shelf (Kg / lbs)

20 / 44.1

20 / 44.1

Electrical requirements (230V, 50 / 60Hz, A)
5.7
6.7
Cat. No.
AAH13315K
AAH13325K
Electrical requirements (120V, 60Hz, A)
10.2
11.7
Cat. No.
AAH13316U
AAH13326U
※ The lowest temperature that can be controlled depends on changes in room temperature and sample temperature. Therefore, please contact the distributor of our products before purchasing for technical consultation.
※ Technical data (according to DIN 12880, after 2013)
※ You can add an extra shelf that can be placed at the bottom to experiment with more samples same time, and the value of Variation and Fluctuation may increase slightly.
Viton gaskets

Vacuum pumps

Cold trap baths
Gaskets
Silicone Gasket : Basics are included, and structure allows for easy replacement.
Viton Gasket: Viton gasket with excellent chemical resistance.
| Cat. No. | Description | Suitable for |
| --- | --- | --- |
| 00FAA0005146 | Silicone gasket | OV4-30 |
| 00FAA0005147 | Silicone gasket | OV4-65 |
| 00FAA0005187 | Viton Gasket | OV4-30 |
| 00FAA0005188 | Viton Gasket | OV4-65 |
Vacuum pumps
Rotary vacuum pumps with directly connected oil seal prevent air reflux and provide high vacuum pressure for vacuum ovens.
Cat. No.
Description
BEH73205K
W2V10

(230V, 50/60Hz)

BEH73206U
W2V10

(120V, 60Hz)

BEA700351
Oil mist trap

(PC)

BEA700355
Oil mist trap

(metal)

BEA700353
Vacuum pump oil

(1L)

BEA700354
Vacuum pump oil

(20L)
※ In order to get rid of evaporated oil or to block oil in-flow, an optional oil mist trap is recommended.
Cold trap baths
CTB-10 cold trap baths equipped with two U-type glass traps prevent a vacuum pump from vapors or contamination.
Cat. No.
Description
AAH62011K
CTB-10

(230V, 60Hz)

AAH62012K
CTB-10

(230V, 50Hz)

FCA1110
U-type glass trap

(1ea)
LC GreenBox
Monitor the operation status of the device in real time via mobile app with simple internet connection.
Cat. No.
Model
AAHQ1011K

OV4-30

OV4-65