Storage
HOME
> PRODUCTS
> Storage
Storage

Fire Safety Storage Cabinet (Type 60)
Proven refractory performance to safeguard flammable hazardous materials from fire
Model Name : SC2-60F-0812D2/0809D1/0806D1-CL/0806D1-CR/0706D1-C
Diverse certifications obtained
Only one in Korea to obtain CE (EN14470-l) certification.
Acquired Certificate of Excellent Product from the Public Procurement Service in Korea.
Acquired performance certification from the Ministry of SMEs and Startup in Korea.
Awarded the 2018 Safe Korean Technology Prize by the Ministry of the Interior and Safety.
* EN14470-1 verifies that the equipment meets the European safety standards for dangerous goods containers such as fire resistance, internal ventilation, shelf stability, and automatic door closure.
Safe storage from fire
High fire resistance
Fire resistance performance is in accordance with the strictest European standard, with the internal temperature kept below 180K for up to 90 minutes in the event of fire.
Fire Response Sealing System
When the temperature reaches 50°C, the door automatically closes. When the ambient temperature reaches 70±10°C, the exhaust holes and ventilation openings are automatically closed, totally blocking the flow of heat from the outside in the event of fire
The right model for the application can be selected
Possible to suppress fire at the natural ignition point of the dangerous goods being handled.
Model selected considering the prediction time, etc.
Chemical resistant interior material
Excellent chemical resistance even for long-term use with the interior material coated with polyphenol resin.
Under bench type height-adjustable (SC3 Under-type Model)
750 mm/820 mm height can be selected considering the work height when hood is installed at the bottom.
Solid and secure shelf structure
Solid shelf structure
It is a solid structure allowing for up to 80kg to be held per shelf and it can be fixed firmly to the left and right inside walls
Safe shelf design
With 30mm-deep shelf shape for safe storage, it is designed to be safe even if the stored contents are leaked.
Right shelf selection
The built-in shelf is excellent in chemical resistance due to epoxy powder coating. Also, stainless steel shelves and PP trays can be selected. (optional).
Proven fireproof performance!
Items Proven by Testing

30 minutes / 60 minutes / 90 minutes fire resistance performance test.

For fire test according to standards of EN 1363-1, the time required for AT to be kept below 180°C is expressed as fire resistance (EN-14470-1).




Comparison of fire resistance performance based on certification
Convenient Reagent In/Out
Equipped with door closure to stop the door at the desired position for easy insertion and removal of flammable reagents.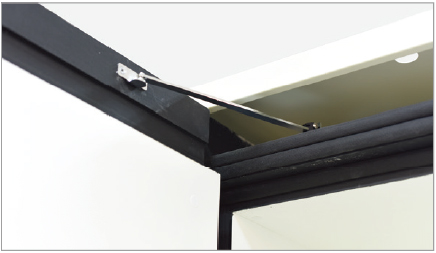 Automatically sealed ventilation
When the ambient temperature reaches 70±10°C in case of surrounding fire, the exhaust opening, and ventilation opening are designed to be automatically closed to completely prevent the inflow of external heat.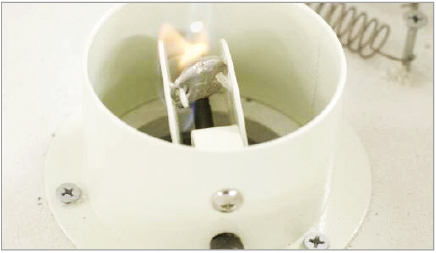 Triple insulation structure
All walls are constructed of the same triple-insulated structure and all gaps are treated with fire-retardant finishes to protect flammable materials in the event of a surrounding fire.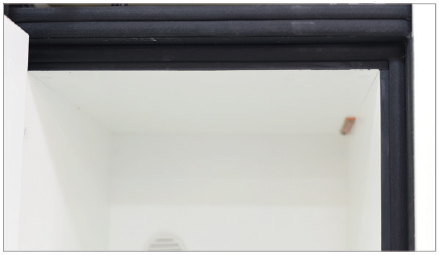 Safe ventilation of flammable vapor
It is possible to discharge gas easily through the vent inlet and vent outlet to prevent accidents due to accumulation of flammable vapor, and to protect the health of the experimenter.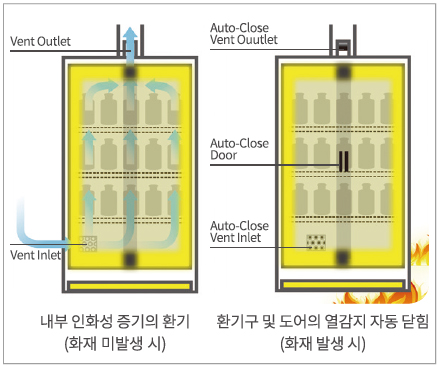 Configurable with lab safety workbench
It is composed of a fume hood and a testing bench bottom, making it excellent for storing hazardous materials and waste liquids.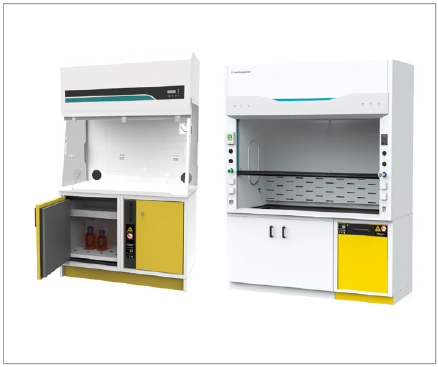 Effluent reservoir

Safe handling in the event of stored material leakage and prevention of leakage out of the cabinets.

Key lock device

Key lock is provided as standard to block unauthorized access.

Safe stored materials handling

Ergonomic structure with easy access to shelves for user's safety and convenience.
Convenient moving and installation

Forklift fork space for convenient movement.
Leveling feet for stable installation.

Extraction Module (option)

Filters flammable gas inside the cabinet with a carbon filter without connecting a separate duct.
EN 14470-1
NFPA 30
Fire resistance
performance
0
0
Fire test according to EN 1363-1,
15 min.- 90 min.
(15 min. / 30 min. / 60 min. / 90 min.)
NFPA 251 standard fire resistance test, 10 minute level
Flammable vapor
ventilation
0
0
Flammable vapor ventilation is recommended.
Check sound pressure formation inside the cabinet during ventilation.
Ventilation is not recommended.
(Recommended to use level of container recommended in NFPA 30.)

Keeps flammable vapors below the LEL concentration and removes odors through ventilation.

It seals the ventilation holes, and an odor occurs inside the storage cabinet.
The risk of ignition is increased as the concentration of flammable vapor increases.

Safety Cover
0
0
Automatic door and ventilation closure during fire test
In the case of a fire test, test with the ventilation hole blocked.
Fire safety not considered when connecting to external ventilation facilities.
Comparison of EN 14470-1 and NFPA 30 International Standards
Fire resistance performance 60-minutes type
Type
Model
Under
SC2-60F-0806D1-CL
SC2-60F-0806D1-CR
SC2-60F-0706D1-C
※ LC Connected service scheduled for release
Specification (Type 60)
Model

SC2-60F-0806D1-CL
SC2-60F-0806D1-CR
SC2-60F-0706D1-C
Internal volume
(L / cu ft)
89 / 3.1
76 / 2.7
Interior dimensions
(W x D x H,
mm / inch)
505 x 419 x 422
/ 19.9 x 16.5 x 16.6
505 x 419 x 362
/ 19.9 x 16.5 x 14.3
Exterior dimensions
(W x D x H,
mm / inch)
600 x 610 x 820
/ 23.6 x 24.0 x 32.3
600 x 610 x 720
/ 23.6 x 24.0 x 28.3
Max. load (kg / lbs)
80 / 176.4
80 / 176.4
Bottom collecting sump set 1)
(Volume : L / cu ft, Height : mm / inch)
7 / 0.2, 16 / 0.6
7 / 0.2, 16 / 0.6
CE certification
O
O
Weight
(kg / lbs)
106 / 233.7
100 / 220.5
Cat. No.
AAAF360310
AAAF360311
AAAF360110
Product appearance
Product interior

1) Providing Epoxy powder coated bottom collecting sump set (standard), change to Stainless Steel material. (option)
Accessories (Type 60)
Accessory
Description
(W x D x H, mm / inch)
SC2-60F-0806D1-CL
SC2-60F-0806D1-CR
SC2-60F-0706D1-C
Plinth (Side)
480 x 340 x 350
/ 18.9 x 13.4 x 13.8
AAAF15364
AAAF15364
Extraction
Module (EM-33)
(230V, 60Hz)
348 x 498 x 343
/ 13.7 x 19.6 x 13.5
AAAF1536
AAAF1536
Dimension (Unit: mm / inch)
Model
A
B
C1)
D (Diameter)
Under (Door)
SC2-60F-0806D1-CR/CL
125 / 4.9
530 / 20.9
1070 / 42.1
102 / 4.0
SC2-60F-0706D1-C
125 / 4.9
480 / 18.9
1070 / 42.1
102 / 4.0
1) C is the maximum depth when the door is opened.

Bottom Collecting Pump Specification by Model
| Model | A |
| --- | --- |
| SC2-60F-0812D2 | 1103 x 418 x 35 / 43.4 x 16.5 x 1.4 |
| SC2-60F-0809D1 | 803 x 418 x 35 / 31.6 x 16.5 x 1.4 |
| SC2-60F-0806D1-CL/CR | 503 x 418 x 35 / 19.8 x 16.5 x 1.4 |
| SC2-60F-0706D1-C | 503 x 418 x 35 / 19.8 x 16.5 x 1.4 |
※ Choose one between a epoxy powder coated steel and a stainless steel material
Shelf

Bottom Collecting Sump

Tray (PP)
Drawer

Fume Extraction Module
(EM-33)

Plinth (Side) + EM-33