Industrial Test Equipments
HOME
> PRODUCTS
> Industrial Test Equipments
Industrial Test Equipments

Optimally constructed for separatingsolvents from solutions or drying solvents with high boiling points.
Model Name : OV-11/12
Performance
Temperature range from ambient +5°C to 250°C
Vacuum range: 0 to 0.1 MPa.

(analog vacuum gauge)


- Drying a solvent in vacuum lowers its boiling point, thereby making the separation process easier and eliminating the need to use high temperatures.
Microprocessor PID control / Temperature calibration / Automatic tuning.
Uniform heat distribution from block type heater attached to the chamber exterior to the anodized aluminum shelves.
Convenience
Intuitive control panel with bright LED displays.

(1°Cresolution)

Dual wait on/off timer modes.

(1 min. to 99 hr. 59 min.)

Convenient presetting function for 3 most commonly used temperature settings.
Viton

(fluorine rubber)

door gasket also available for acidic applications.

(optional)

Heat tempered glass window provides clear inside view of the chambers
Tight vacuum seal thanks to spring-loaded glass door, silicone gasket, and a push-button latch handle.
Separate vacuum and vent ports.
RS-232 interface for external control and data collection.
Safety
Keypad lock function prevents accidental changes during operation.
Automatic run after power interruption.
Over-temperature and over-current protection.
Model
OV-11
OV-12
Chamber volume

(L / cu ft)

28 / 1
65 / 2.3
Vacuum range
0~0.1MPa, Analog
Nozzle size

(mm / inch)

Vacuum Ø10 / 0.4, Vent Ø10 / 0.4
Temperature
Range

(℃ / ℉)

Amb. +5 to 250 / Amb. +9 to 482
Fluctuation 1)

(±℃ / ℉ at 100℃)

0.1 / 0.18
0.3 / 0.54
Variation 1)

(±℃ / ℉ at 100℃)

5.0 / 9.0
Dimension

(W×D×H)

Interior

(mm / inch)

302×305×302 / 11.9×12×11.9
402×405×402 / 15.8×15.9×15.8
Exterior

(mm / inch)

680×453×495 / 26.8×17.8×19.5
780×557×595 / 30.7×21.9×23.4
Net weight

(Kg / lbs)

63 / 139
103 / 227
Electrical requirements

(230V, 50 / 60 Hz)

5.3A
6.1A
Cat. No.
AAH13115K
AAH13125K
Electrical requirements

(120V, 50 / 60 Hz)

10A
11.7A
Cat. No.
AAH13116U
AAH13126U
1) Technical data according to DIN 12880.
Safety covers

Viton gaskets

Vacuum pumps

Cold trap baths
Safety covers
In case of the glass is destroyed, the netted steel frame and polycarbonate sheet cover prevent user from glass splinters.
| Cat. No. | Description | Suitable for |
| --- | --- | --- |
| AAA13603 | Safety cover | OV-11 |
| AAA13604 | Safety cover | OV-12 |
Gaskets
Viton (fluorine rubber) door gaskets can be provided upon request.
Cat. No.
Description
Suitable for
FAA5146
Silicone gasket
OV-11
FAA5187
Viton

(fluorine rubber)

gasket
FAA5147
Silicone gasket
OV-12
FAA5188
Viton

(fluorine rubber)

gasket
Vacuum pumps
Rotary vacuum pumps with directly connected oil seal prevent air reflux and provide high vacuum pressure for vacuum ovens.
Cat. No.
Description
BEH73205K
W2V10

(230V, 50/60Hz)

BEH73206U
W2V10

(120V, 60Hz)

BEA700351
Oil mist trap

(PC)

BEA700355
Oil mist trap

(metal)

BEA700353
Vacuum pump oil

(1L)

BEA700354
Vacuum pump oil

(20L)
※ In order to get rid of evaporated oil or to block oil in-flow, an optional oil mist trap is recommended. (refer to page 107 for additional information.)
Cold trap baths
CTB-10 cold trap baths equipped with two U-type glass traps prevent a vacuum pump from vapors or contamination.
Cat. No.
Description
AAH62011K
CTB-10

(230V, 60Hz)

AAH62012K
CTB-10

(230V, 50Hz)

FCA1110
U-type glass trap

(1ea)
Related products for vacuum ovens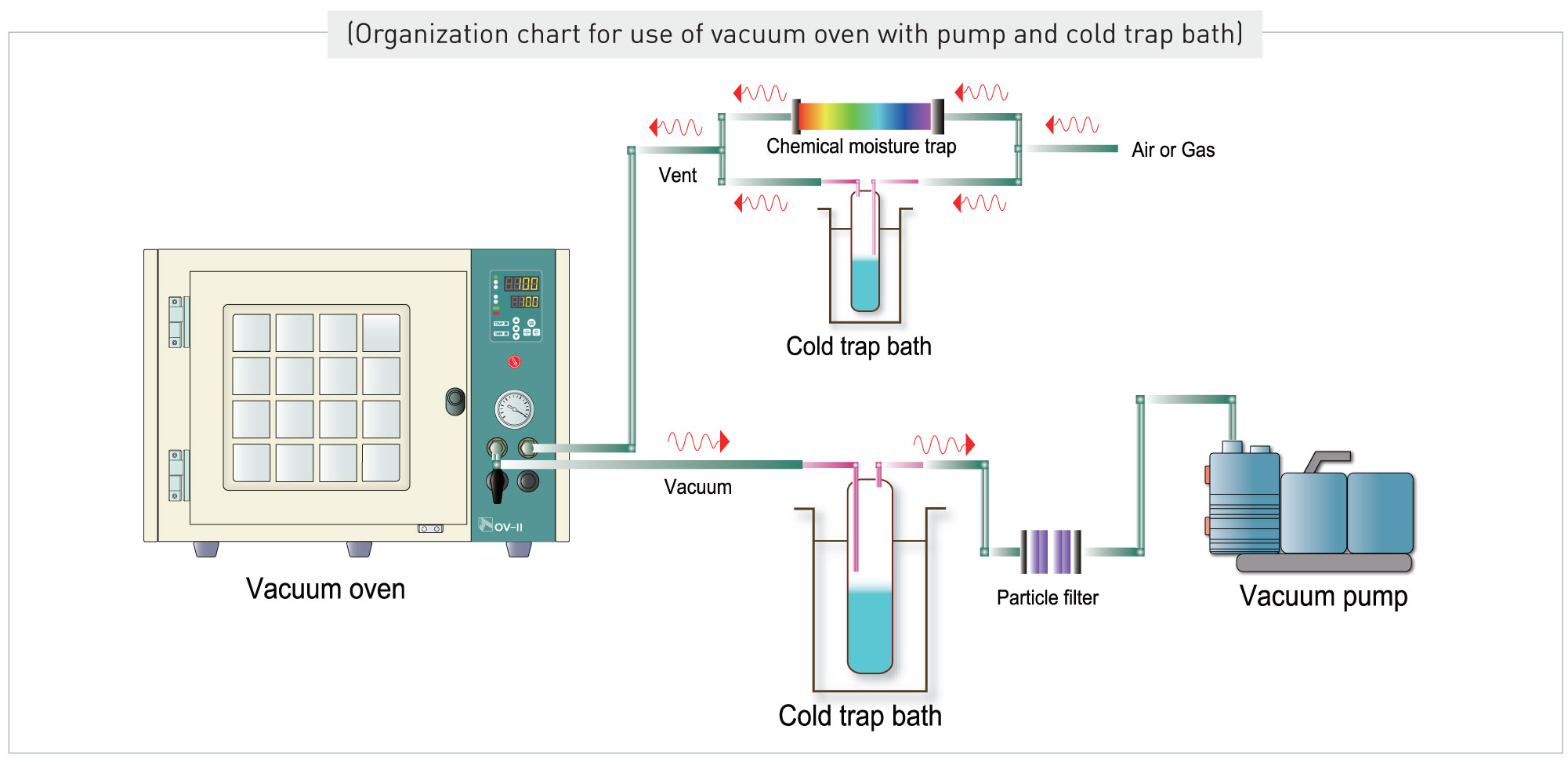 ※ In order to get rid of evaporated oil or to block oil in-flow, an optional oil mist trap is recommended. (refer to page 107 for additional information.)