Fume Hoods
HOME
> PRODUCTS
> Fume Hoods
Fume Hoods

Movable extraction Arm hood
Extraction arm hood with filter box.
with optional, filter, and dome hood
Model Name : MAH-2100/3100
Performance & Convenience
Simple control panel

Quick tilt-adjustable knob

360° rotatable joint

Damper for airflow rate adjustment
In-lab ventilation system is no longer necessary with this movable extraction arm hood. MAH series can serve as the best mobile or fixed mounted fume extraction system.
Chemical-resistant and heavy duty polypropylene extraction arm.
360-degree rotatable joints in the arms provide exceptional flexibility for easy positioning.
Arm joints are easily removable for simple adjustment of length of the arm.

(removable parts : B, C)

Air flow rate is adjustable by the damper of the extraction arm.
Durable BLDC motor provides quiet and comfortable working environment.
Convenient air flow control.
Gas detecting port for checking filter condition.
Automatic fan malfunction warning alarm.
Pre filter, HEPA filter, activated carbon filter are provided as standard accessories.
Optional different types of the hoods are available for effective fume extraction.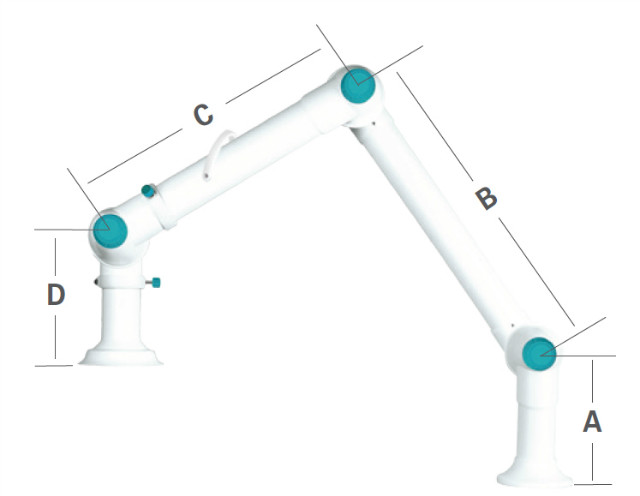 Model
Joint
Length

(mm / inch)

Ø


(mm / inch)

Net
weight


(kg / lbs)

Cat. No.
Electrical requirements
A
B
C
D
Total
230V/60Hz, 1.5A
230V/50Hz, 1.5A
120V/60Hz, 3A

Polypropylene Extraction Arm Hood + Filter Box*

Airflow rate Max.140m3/h

MAH-2100
2 joints
250/9.8
-
530/20.9
260/10.2
1040/40.9
75/2.9
1.8/3.9
AAHB6111K
AAHB6112K
AAHB6113U
MAH-3100
3 joints
640/25.2
1680/66.1
2.4/5.3
AAHB6301K
AAHB6302K
AAHB6303U
* Filter box dimensions (WxDxH, 500x500x850mm) (kg / lbs, 37.2 / 82.0)
Filter box comes with pre filter/HEPA filter/activated carbon filter.
Dome hood
(transparent / white)

Square hood
(transparent / white)

Bench top fume hood & bracket

Brackets
(ceiling / ceiling column / wall)
Cat. No.
Description
Dimension


(WxDxH, mm / inch)

AAAB6221
Dome hood

(polypropylene, white)

400x140 / 15.7x5.5

(ØxH, mm/inch)

AAAB6211
Dome hood


(styrene butadiene copolymer, transparent)

AAAB6241
Square hood

(polypropylene, white)

494x390x245/ 19.4x15.4x9.6
AAAB6231
Square hood


(styrene butadiene copolymer, transparent)

AAAB5011
Bench top fume hood (PMH-720) 1)
720x450x560 / 28.3x17.7x22
AAAB6411
Bracket for bench top fume hood
178x178x2 / 7x7x0.1
Cat. No.
Description
Type
Dimension


(WxDxH, mm / inch)

AAAB6508
Ceiling braket
260x260x2 / 10.2x10.2x0.1
AAAB6512
Ceiling column
(extra side connection hole
for Ø 75mm ventilation duct)
100x100x250 / 3.9x3.9x9.8
AAAB6513
100x100x500 / 3.9x3.9x19.7
AAAB6514
100x100x750 / 3.9x3.9x29.5
AAAB6515
100x100x1000 / 3.9x3.9x39.4
AAAB6516
100x100x1250 / 3.9x3.9x49.2
AAAB6517
100x100x1500 / 3.9x3.9x59.1
AAAB6510
Wall
158x259x81.7 / 6.2x10.2x3.2
※ All the brackets listed above are suitable for Ø 75mm arms.
Exceptively ceiling column brackets are suitable for Ø 50/75/100mm arms.